Welcome to the In Teachers' Hands Website.
This website presents the results of the research project In Teachers' Hands: Effective Literacy Teaching Practices in the Early Years of Schooling. The project was based at Edith Cowan University and included researchers from around Australia.

Here you will find a copy of the report and video clips of effective early years literacy teaching. The teachers in these clips demonstrate and discuss 33 teaching practices identified through a comprehensive review of research literature. These teaching practices are grouped into six dimensions in the Classroom Literacy Observation Schedule (CLOS) that we created for this project.
Click here
for a PDF version of CLOS and some of the research references.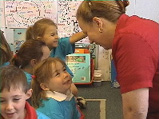 In order to view the videos you will need to register on the website the first time you access them. For ethical reasons, the website cannot accept hotmail addresses, the videos are streamed directly from the website, and cannot be downloaded or copied. The videos provide visual evidence of what we observed in effective teachers' classrooms.